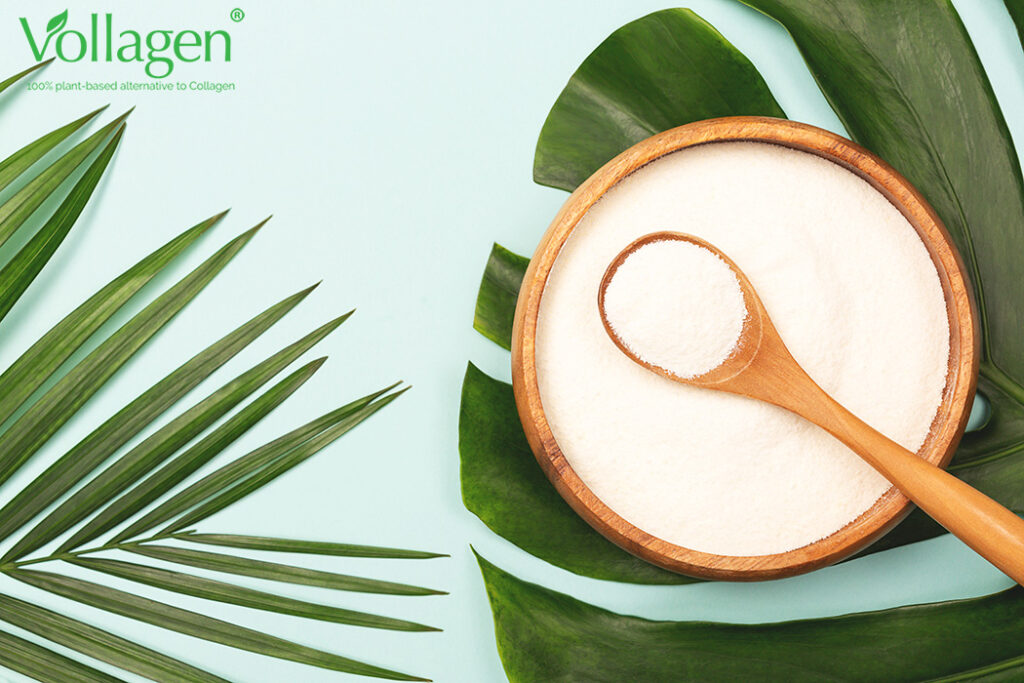 Vollagen® is formed from a complex of amino acids in the same proportion as those found within Collagen, but with three key advantages over Collagen:
The proprietary process uses only plant-source starting material and provides the amino acids in the exact desired ratio and in a water-dispersible format.
The amino acids are already isolated and ready for the body to absorb easily.
Vollagen® is suitable for vegans and vegetarians.
Origin
Vollagen® is 100% plant-based, whereas Collagen is derived from animal sources. Vollagen® is produced using a proprietary, multistep fermentation and microencapsulation process with a starting material of non-GMO Corn Starch.
Structure
Vollagen® is composed of the same 18 amino acids as human Collagen. Download the brochure at the bottom of the page to find out more. 
Study
We undertook a study to identify Vollagen®'s effect on hair and nails. The study was completed by Ayton Global Research (AGR), a leading and award-winning independent global consumer testing organisation conducted the study. 

Over 60 days, participants were given 1000mg of Vollagen® (2 x capsules) daily in unbranded sachets with dose and usage instructions.

After 60 days, results showed: 
The skin looked firmer and more hydrated.
Fine lines and wrinkles were reduced.
Skin tone became more even and radiance enhanced,
The appearance of dark circles was reduced and looked less tired
Skin looked smoother and more supple.
Breakouts and blemishes were reduced.
Skin appears healthier and complexion looks brighter.
The condition of the nails improved and felt stronger and healthier. 
To find out more, download the brochure below 👇 
Vollagen® is available in powder form from a minimum of 25kg (carton size).

If you have any questions or would like to request a sample, please feel free to get in contact.