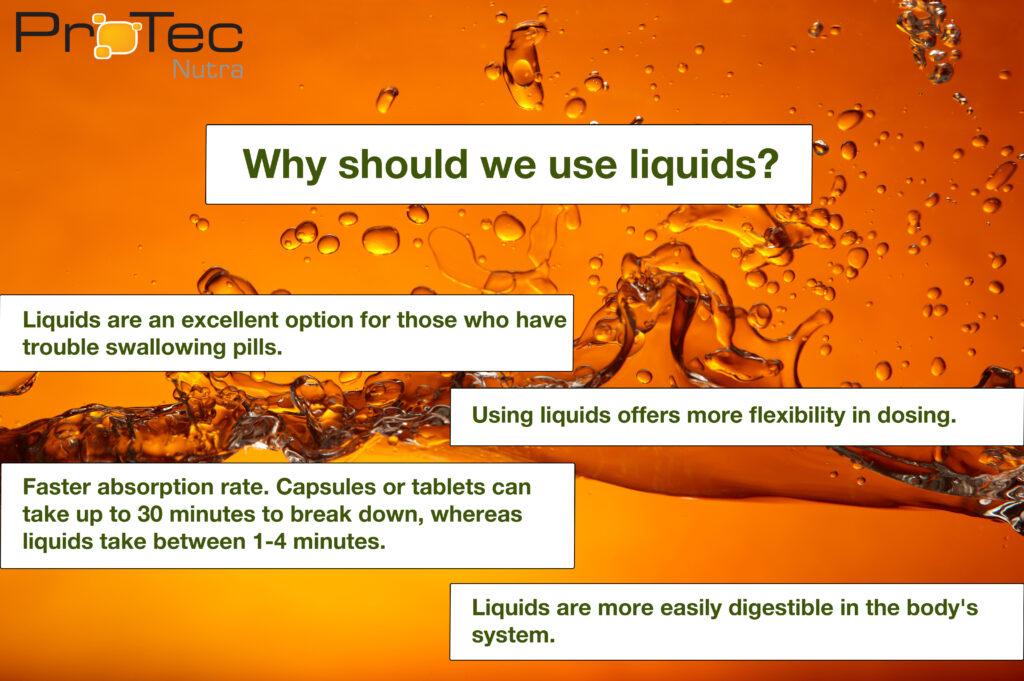 With the traditional dosage forms of tablets and capsules being seen as boring or old fashioned, the general public always wants to find more convenient ways to get their daily dosage of vitamins and minerals.
So the question is why not choose liquids?
Supplements presented as a liquid formulation have many advantages over other more traditional forms, such as hard or soft shell capsules and tablets.
Studies have shown that when supplements are consumed in liquid form, they are likely to be more readily absorbed, generally taking the body a matter of moments to assimilate.
Liquid formulations also deliver higher bioavailability levels of active ingredients when compared with other delivery forms due to the disintegration time required for capsules and tablets.
Liquid benefits: 
More flexibility in dosing. We can use formulations that wouldn't be possible in one or many tablets.
Faster absorption rate. Capsules or tablets can take up to 30 minutes to break down, whereas liquids take between 1-4 minutes.
More easily digestible in the body's system.
An excellent option for those who have trouble swallowing pills.
We offer various processing types for bulk or finished packs:
Aqueous Liquids.
Oils Blends.
Emulsions.
Suspensions.
Liposomes.
Low shear, high shear and homogenisation.
Along with this, we can pack into different formats such as:
Drippers.
Droppers.
Oral Sprays.
PET & Glass bottles.
10ml – 500ml fill capability.
Products can be made in bulk and finished at very low quantities, so please don't hesitate to contact us for any enquiries.