We are delighted to tell you about Liposomal Technology. What it is, what it does, how it can be used and how we can help you formulate with it for your customers.

Liposomal Technology is an easier, more efficient way of absorbing and consuming supplements and is suitable for everyone.
The name liposome is derived from the Greek words 'lipos,' meaning fat, and 'soma,' meaning body. It essentially is a tiny vesicle made out of the same material as a cell membrane. Membranes are usually made of phospholipids, which have a hydrophilic head group and a hydrophilic tail group.
Liposomal Technology allows the formulation of water-insoluble ingredients into oil/water emulsions. The phospholipids protect the active ingredient to help it reach targeted destinations around the body.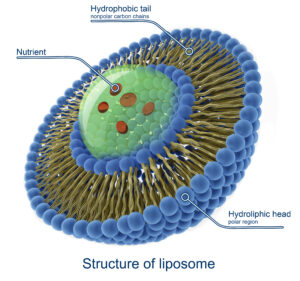 Some studies suggest the body absorbs Liposomal ingredients better and that more than one substance can be loaded into a liposome to make them work synergistically. They are non-toxic and biologically degradable.
Liposomal products are a safe and natural way to increase your customers herbal and vitamin supplementation needs.
We can produce as low as 500 units of the Liposomal products, and the categories range from the following:
General wellbeing
Immunity
Energy
Joints
Pregnancy
Sports
Eye Health
Skin Health
The possibilities are endless. We can supply bulk unlabelled bottles or help you produce a high quality product.
Our current lead time on production is 12 weeks, so be sure to place an order with us to kickstart the spring season.
To find out more, please download a few examples of our product information sheets below or feel free to get in contact to discuss our portfolio today.
If you would like to start a conversation with us, have any questions regarding our product portfolio or would like to request pricing and a sample, please don't hesitate to get in touch. We look forward to hearing from you.